MEET THE 2017-2018 DRC GRADUATE FELLOWS
Hosted by the Sweetland Center for Writing, the Digital Rhetoric Collaborative (DRC) is an online, community webspace by and for scholars and teachers working in computers and writing and digital rhetoric, and a digital book series with the U-M Press.
This summer, the DRC welcomed its fifth cohort of graduate student Fellows. The program aims to recognize graduate students around the country currently working in digital rhetoric who want practical experience in online publishing and website development. Fellows are selected on a yearly basis by the editors and board of the DRC, and receive an annual stipend of $500 as well as recognition on the DRC website.
DRC Fellows commit to attending monthly online team meetings to plan projects that extend the DRC website and its contributions to the community of computers and writing. They work independently and collaboratively to complete two projects within the year of their term. Last year's Fellows  hosted robust blog carnivals on "The Past, Present, and Future of Digital Publishing" and "Teaching Digital Rhetoric after the Election," as well as publishing Webtext of the Month reviews covering topics from Pokémon Go and collaborative games to fact-checking and "fake news" to the multimodal podcast S-Town. Our new fellows have already jumped into the mix with a webtext review of an interactive mapping tool in white collar crime risk zones and a selection of session reviews from the 2017 Feminisms and Rhetorics conference. Look for posts in their current blog carnival on "Material and Digital Rhetorics: Openings for Feminist Action" taking place now.
This year's fellows are:
Lauren Brentnell, Michigan State University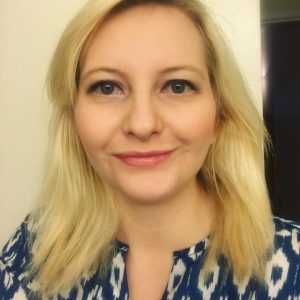 Lauren Brentnell is a PhD student in Writing, Rhetoric, and American Cultures at Michigan State University. Her research focus is in trauma studies, examining how trauma survivors use nonlinear, multimodal, and digital forms of composing during the recovery process. She currently works as a research assistant with the Corpus and Repository of Writing (CROW), a multi-institutional research project devoted to creating a new digital archive to support new forms of writing research. She tweets at @RhetoricNSpice. Read Lauren's introduction
Carleigh Davis, East Carolina University
Carleigh Davis is a PhD student in Rhetoric, Writing, and Professional Communication at East Carolina University. Her research focuses on using Memetic Rhetorical Theory to explore the intersections of rhetoric and social justice in digital spaces. She is currently using this theory in her dissertation as a way of examining the proliferation of fake news items through social media networks. She tweets at @CarleighJoan. Read Carleigh's introduction
Brandee Easter, University of Wisconsin-Madison
Brandee Easter is a doctoral student in the Composition and Rhetoric program at the University of Wisconsin-Madison. Her research focuses on intersections of gender and digital rhetoric. She also enjoys talking about videogames, graphic design, and her dogs. Read Brandee's introduction
Lauren Garskie, Bowling Green State University
Lauren Garskie is a PhD student in the Rhetoric & Writing Program at Bowling Green State University. Her research interests include design, literacies, digital rhetoric, and multimodality. Lauren's dissertation analyzes the rhetorical uses of a new collaborative space on BGSU's campus and the influence of such space on its users and a design thinking process. Read Lauren's introduction
Kristin Ravel, University of Wisconsin-Milwaukee
Kristin Ravel is pursuing her PhD in English with a concentration in Rhetoric and Composition at the University of Wisconsin-Milwaukee (UWM). Kristin's dissertation explores ethics and digital multimodality in the composition classroom through, what she is calling, a pedagogy of techno-social relationality. More specifically, a pedagogy of techno-social relationality, motivated by feminist theory on ethics, explores how relationality ought to be understood as taking place online in an inseparable blend of the technical and social. She tweets at @kristin_ravel. Read Kristin's introduction
Jason Tham, University of Minnesota
Jason is a PhD candidate in Rhetoric and Scientific and Technical Communication at the University of Minnesota––Twin Cities. His current research focuses on making and design thinking in writing pedagogy, multimodality, and emerging technologies such as wearables and mixed reality. Read Jason's introduction
NEW BOOK from the Sweetland DRC Book Series
This February, the Digital Rhetoric Collaborative Book Series, part of the Digital Culture Books imprint of the U-M Press, had the pleasure of publishing its third book, the digital monograph Rhizcomics: Rhetoric, Technology, and New Media Composition by Jason Helms of Texas Christian University. As the book's front matter indicates, Rhizcomics explores comics as a new "idiom" for understanding the relationship between texts and images, as well as a "rhetorically complex medium" in its own right, "capable of nuanced scholarly arguments." What's more, in its playful, interactive interface ("Is it a book, a project, a work, an experience?"), Rhizcomics, as one reviewer puts it, "breaks new ground in how scholars of rhetoric and composition present theory and research." Helms "dazzles his readers by disrupting our expectations. We are invited to not only follow Helms' argument but to blaze our own way through on a multimodal journey, taking inviting detours, playing with animations, and even reading out of order. Rhizcomics is a visual and verbal feast, much as comics are, and is both argument and metaphor. I've never seen anything like it."
OF NOTE: The Digital Rhetoric Collaborative Book Series publication, Digital Samaritans: Rhetorical Delivery and Engagement in the Digital Humanities by Jim Ridolfo (University of Kentucky), received the 2017 Conference on College Composition and Communication Research Impact Award! Presented annually by the premier professional organization in writing studies, this award recognizes "the empirical research publication in the previous two years that most advances the mission of the organization or the needs of the profession."