Hosted by the Sweetland Center for Writing, the Digital Rhetoric Collaborative (DRC) is an online, community webspace by and for scholars and teachers working in computers and writing and digital rhetoric. It is also the home of a digital book series with the U-M Press.
This summer, the DRC welcomed its seventh cohort of graduate student Fellows. The program aims to recognize graduate students around the country currently working in digital rhetoric who want practical experience in online publishing and website development. Fellows are selected on a yearly basis by the editors and board of the DRC, and receive an annual stipend of $500 as well as recognition on the DRC website.
DRC Fellows commit to attending monthly online team meetings to plan projects that extend the DRC website and its contributions to the community of computers and writing. They work independently and collaboratively to complete two projects within the year of their term. Last year's Fellows hosted robust blog carnivals on "Discerning Digital Rhetorics' Futures" and "Multimodal Design and Social Advocacy", as well as publishing five Webtexts of the Month reviews covering topics from teaching with Wikipedia, to a new online forum for young scholars, to a journal of undergraduate multimedia publications. In November, two of our fellows collaborated on an interactive video chronicling their experiences attending the annual Watson Conference on Rhetoric and Composition and curating a series of conference session reviews. Our new fellows have already jumped into the mix with a blog carnival on "Digital Community Building as Social Justice Praxis", fresh off the (digital) press.
This year's fellows are:
Dana Comi, University of Kansas
Dana Comi is a PhD student in the Rhetoric and Composition program at the University of Kansas, where she currently teaches first year composition and technical communication courses. Her research interests include Rhetorical Genre Studies (RGS), human-centered design, and digital rhetoric. Currently, she researches neighborhoods that design their own Internet infrastructure as rhetorical access-building. You can follow her on Twitter at @cat_comi.
Wilfredo Flores, Michigan State University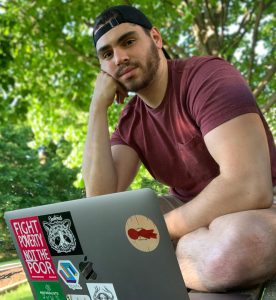 Wilfredo Flores—or Wil—is a third-year PhD student in the Department of Writing, Rhetoric, and American Cultures at Michigan State University. His research deploys ideas from platform studies and cultural rhetorics and qualitative methods to examine how queer people talk about their sexual health on Twitter. You can read more at wilfredoflores.org, and he tweets at @willflowers.
McKinley Green, University of Minnesota
McKinley Green (he/him/his pronouns) is a PhD candidate in Rhetoric and Scientific & Technical Communication at the University of Minnesota, where he teaches classes in technical and professional communication, first-year writing, and visual rhetoric. His interests are located at intersections of technology, rhetoric, and theories of social justice. You can learn more about his teaching and research at mckinleytgreen.com.
Jialei Jiang, Indiana University of Pennsylvania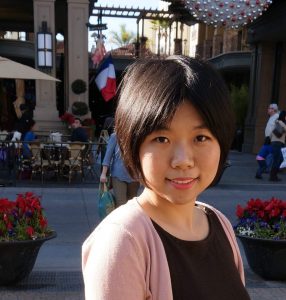 Jialei Jiang is a PhD candidate in Composition and Applied Linguistics at Indiana University of Pennsylvania, where she also teaches first-year composition (FYC) and research writing courses. Her research interests include new materialist theories, digital composition, and public rhetoric. She is interested in exploring the intersection between multimodal pedagogy and public rhetoric advocacy. Jialei's dissertation focuses on examining the material and affective design of multimodal campaigns in FYC classrooms.
Soyeon Lee, University of Houston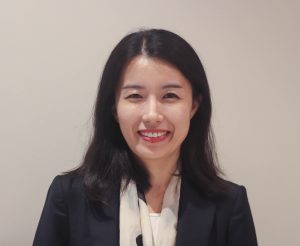 Soyeon Lee is a PhD candidate in Rhetoric, Composition, and Pedagogy in the English department at the University of Houston. Her research interests include transnational literacy studies, digital rhetoric, community engagement, and environmental risk communication. She has worked on representing the experiences and literate lives of flood-affected immigrants living in the Gulf of Mexico coastal cities in the aftermath of disasters.
Nupoor Ranade, North Carolina State University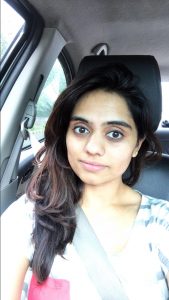 Nupoor Ranade is a Ph.D. student in the Communication, Rhetoric and Digital Media program at the North Carolina State University. Her research focuses on audience analysis, digital rhetoric, user experience and information design, primarily in the field of technical communication and artificial intelligence. Her research experience and partnerships with the industry help her bridge gaps of knowledge that she then brings to her pedagogical practices. She is interested in exploring interdisciplinary collaborative work which helps us redefine the term audience.
TWO NEW BOOKS from the Sweetland DRC Book Series
This winter, the Digital Rhetoric Collaborative Book Series, an imprint of the U-M Press, published two new books that move the study of digital writing and rhetoric forward in important ways.
Developing Writers in Higher Education: A Longitudinal Study, edited by Anne Ruggles Gere (University of Michigan), director of Sweetland 2008-2019, provides a comprehensive study of college students' writerly development across their undergraduate years. Drawing on extensive qualitative and quantitative data gathered from 169 U-M undergraduate students over six years, Developing Writers traces the multiple paths taken by student writers as they learn to write for various purposes in multiple disciplines, leading them to new levels of competence in their academic and professional pursuits. The book has both a companion website that presents additional materials for a broad audience, and an online repository that makes the study's data available to a research audience.
Rhetorical Code Studies: Discovering Arguments in and around Code by Kevin Brock (University of South Carolina) offers an exploration of software code as meaningful communication through which amateur and professional software developers construct arguments. His book considers examples ranging from large, well-known projects like Mozilla Firefox to small-scale programs like the "FizzBuzz" test common in many programming job interviews, and includes interactive components that allow readers to test out some of the book's arguments for themselves. Rhetorical Code Studies is winner of the 2017 Sweetland Digital Rhetoric Collaborative Book Prize.